INTERNATIONAL BEACH HANDBALL TOURNAMENT
The Beach Handball Tournament which is done every year in Alanya has started on July 2nd at palm beach.
This tournament already takes place to the 5-th time at international level. In 2004 Europe mastery was delivered within the scope of this arrangement. Beside Turkey teams from Germany, Austria, Spain, Russia, France, Norway, the Ukraine, Hungary, Croatia, Italy, Macedonia, Sweden, Serbia, Czech Republic, Switzerland, the republic Nordzypern, Südzypern, Israel, Bulgaria and Turkmenistan take part in the competition. This tournament takes place on the beach under carnival atmosphere.
The international organizations are very important for the advertisement of Alanya in the world. Alanya Municipality organized beach volleyball tournament in the year of 2002.
SKY-BALL (URBAN BALL)
Sky-Ball or flying-ball was created by French footballer Dean G. Ildefonse in the year 1999 was to make a free discipline for the youth. A round ball was choosen since hundreds of millions of people already played with balls of that design. Urbanball is a trademark international registered.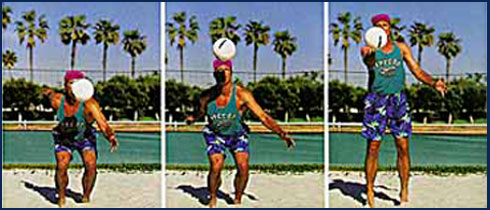 Music has also an important role in Urbanball culture.
This sport first of all played in France. After that had been very popular sport in America, Germany, Austria and Haiti. In Turkey, in the first time it had been played in Alanya in the date of 23 April 2002.
In the first of Sky-Ball Championship was added more than 400 sportsmen in the category men and woman which is age of 10-16 years old. In the date of 23 April 2003 the 2nd.championship had organized by the name Urbanball.
ALANYA RAZAMAZAN DEMİRCİ INTERNATIONAL STREET HANDBALL TOURNAMENT
The tournament is management to the honour Ramazan Demirci who was the Turkish National Hentball Team Player. since 2001.
Up to now beside Turkey teams from Albania, Austria, Azerbaijan, Belarus, Belgium, Bosnia and Herzegovina, Bulgaria, Denmark, Germany, Israel, Kazakhstan, Kosovo, Macedonia, Holland, Poland, Romania, Russia and the Ukraine have taken part in the tournament. The plays take place with the ladies as well as with men in the age groups 12-14, 15-16, 17-18 and 19-20. Furthermore there are also competitions of the ladies and Mr. Senioren-Teams.
The teams who will join in to the tournament can get the tecnical informations :
Saim KANLI  saimkanli@superonline.com
Kıvanç Özkan kivanc68@hotmail.com
Hent.Antr.Der.web sitesi: www.hentbolantrenorleri.com
The aplication adress for joining in to the tournament :
saimkanli@superonline.com
malikocak@alanya.cc 

The aplication adress is for accommodating in Alanya:
saimkanli@superonline.com
INTERNATIONAL BEACH SOCCER TOURNAMENT
Türkiye'de Spor organizasyonlarının yapıldığı şehir olarak isim yapan Alanya yine bir ilki yaparak 14-16 Temmuz 2000 Tarihinde Uluslararası plaj futbolu şampiyonası, düzenlemiştir.
Dünya Plaj Futbolu Şampiyonasının bir ayağı olarak düzenlenen bu organizasyona 4 ülkeden ulusal takımlar katılmışlardır. Türkiye, Almanya, Brezilya ve İspanyanın mücadelede ettiği 2000 yılı şampiyonasında, kupayı Brezilya takımı kazanmıştır.
Daha sonraki şampiyona 12-14 Temmuz 2002 tarihinde yapılmış olup Türkiye, Avusturya, İsviçre ve İngiltere ulusal takımlarının katılımıyla yapılan organizasyonda İsviçre milli takımı birinci, Türkiye milli takımı ikinci olmuştur. İzleyici rekoru kıran bu organizasyonun önümüzdeki yıllarda da yapılması için çalışmalar sürdürülmektedir.
INTERNATIONAL ALANYA SWIMMING MARATHON
International Alanya Swimming Marathon which is done every year in Alanya since 1992. It starts couple of days after or before the Alanya Triathlon in the month of October.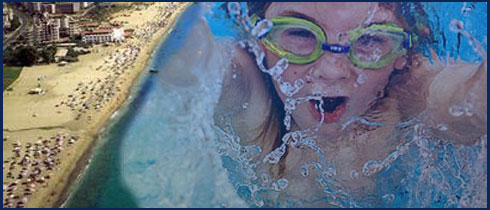 With 14. The competition in the Kleopatra beach begins international swimming marathon. From here the participants must the cliff nose of the castle mountain umrunden to be able to finish the marathon in the harbour. Last year 100 sportsmen from 20 lands took part in the arrangement.
Alanya Triatlon and Tennis Club
İskele Caddesi No: 70
07400 Alanya / Türkiye
Telefon: +90.242. 513 49 00 Faks: +90.242. 513 20 00
www.triathlon.org.tr
BEACH VOLLEYBALL CAHAMPIONSHIP
FIVB released 2009 Beach Volley calendar. Besides SWATCH FIVB World Tour, FIVB preferred Turkey for under 19 SWATCH FIVB Youth World Championship which is one of the most important organization.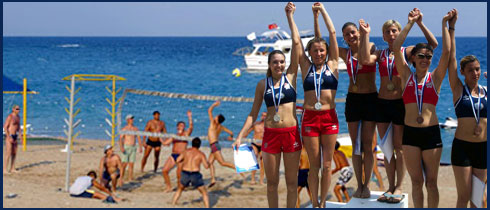 Alanya Belediyesi will host 2009 SWATCH FIVB Youth World Championship U19 between 19th and 23th of August that had hosted Turkey series, CEV Europe Championships and FIVB World Tour on the beaches since 1994.
Alanya Belediyesi is known as "European Beach Volley Center" and hosted several national and international tournements for years, finally signed contract between Turkish Volleyball Federation, FIVB and Su Ltd. to organize SWATCH FIVB Youth World Championship on August 19-23th.
At first, qualification matches will start in the tournement then main frame games will begin on August 20th, in which there would be the best 24 Men and 24 Women players under 19.
Top two teams in the tournement will be struggle in SWATCH FIVB World Tour organization and our country would have 2 teams in both for Men and Women.
Municipality President Hasan Sipahioğlu told about the organization; "We are very glad to organize one of the most important World Championships in our county, which is cared by FIVB so much. Not only in Europe, but also in the whole world, this is a known city when we talk about beach volley. Furthermore, we are happy to host the best players of the world, to make Alanya people have fun and introduce our county to the world by television channels."
We invite all sports lover for Alanya 19 SWATCH FIVB Youth World Championship which will realize on Beach of Milli Egemenlik.
INTERNATIONAL TRIATLON OF ALANYA
In 1983 this sport also came to Europe and was organized in 1991 first in Alanya/Turkey.
The triathlon was discovered in 1978 on the island Hawaii by the American marine officer John Collins with a test about the robustness of the human body when he graduated successively from 3,800 meters of swimming, 180 kilometers of riding a bike and 42.195 meters of running. The Alanya triathlon and tennis club and the triathlon federation of Turkey have helped decisively in the realization of this organization.

The international Alanya triathlon is with the ladies as well as with men a foot Europe masteries. 1.5 kilometers of swimming, 40 kilometers of riding a bike and 10 kilometers of running must be graduated.

Outside Europe masteries the juniors men, more than 40 years and more than 50 year-old men also take part.
First the triathlon found in 1993 with 120 sportsmen from 13 lands share. In 2003 these were 208 sportsmen from 21 different lands.
The registrations to the participation in this arrangement must be directed in the Alanya triathlon and tennis club.
INTERNATIONAL MOUNTAIN BICYCLE TOURNAMENT
International Mountain Bicycle Tournament which is done every year in Alanya since 1997.
In 10. International Mountain bike tournament about 250 sportsmen from 20 lands took part. The distance leads by the historical fortress Alanyas and over the rocky castle mountain. In this tournament points will also award for the UCI.